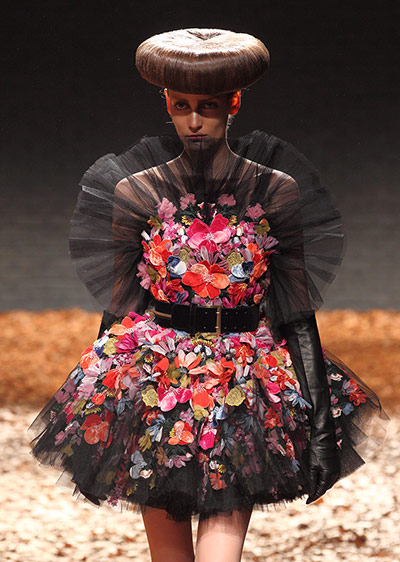 If you were lucky enough to see the McQ show at London Fashion Week on Monday, you'd be forgiven for mistaking it for a mainline Alexander McQueen show! As the sister brand of the British fashion house, McQ is usually well known for it's (more affordable) casual street punk demeanour. However this season, 2011's designer of the year Sarah Burton, stepped it up a notch!
McQ used their debut at LFW to show off some amazing designs, which began with strong military references in two-tone coats, kilted dresses and coats in McQueen's signature blue tartan and leather, and gorgeous thigh high lace-up boots. Models sported halos of hair and looked hauntingly beautiful. The collection seemed to leap through the seasons as leave patterned dresses in moss green and deep red were swiftly followed by collages of flowers in a rainbow of colours.
The finale of the show was reminiscent of McQueen's legendary catwalk theatrics when Kristen McMenamy appeared in a stunning white tulle gown. She stood still for a moment as leaves rained down on her before turning and, hidden in the leaves, she discovered a rope which led her to a hidden hut in amongst the woodland scene behind her. My words can't do justice to the atmosphere of this show! If you missed it, you can watch it below! As I mentioned in my last post the quality of the footage is not great but it still captures the amazing spectacle that was McQ's 1st ever London Fashion Week show!
Have a look and let me know what you think, are you as wow'ed as I am?!
xx